In October 2020 we had a chance to explore Hacktoberfest Challenge together. We made a nice little page presenting our community. Displaying every participant's personalised card. We also got to see some new faces as well 🥳

Later in the year, a couple of us discussed being able to work on projects as an open source team and here is an official invitation encouraging you to join us! ✨
Where can you find us:
1. WONDR
Since March 2021 our main platform became WONDR. This is a new-ish platform which let's us organise our community, our projects, our docs in a very nice and easy to manage way. It also improves our communication as it offers messenger which you can use via desktop or mobile apps. One of the newest features are events which we use to announce and schedule our Friday Focus Sessions which are held every Friday at 7PM UK time.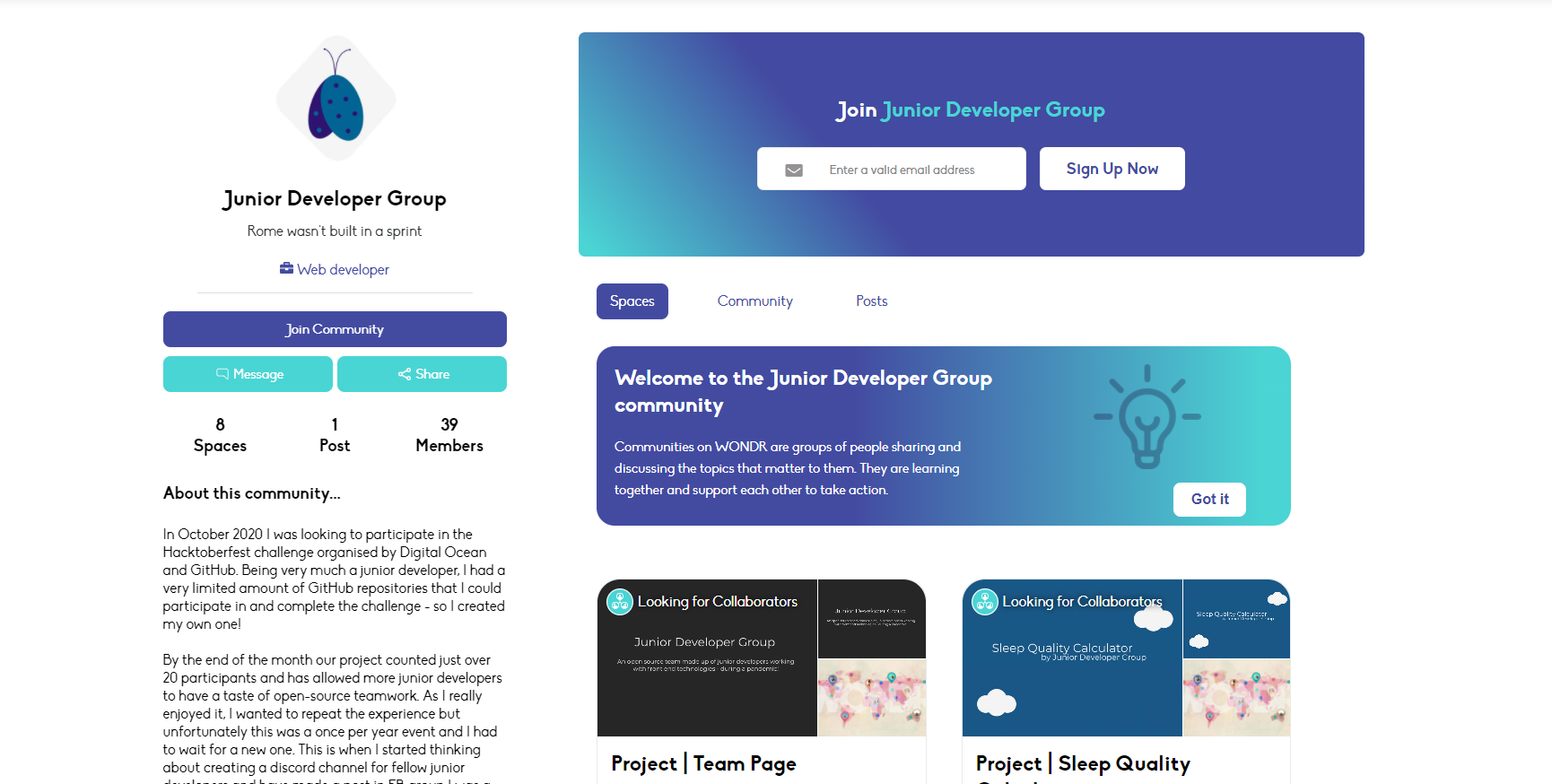 Join us on WONDR by clicking here.
Where can you find us:
2. Discord
Previously, we used Discord as our main platform but we've struggled keeping up with multiple channels, an ocean of messages and even more notifications.. Because of this we only use Discord to host audio/video or screen sharing sessions. One of those is Friday Focus Session which I've mentioned above.
Anyone can join in by visiting this invitation link. The link is set to never expire ✨
Where can you find us:
3. GitHub
All our projects are saved on GitHub and we're registered as an organisation and all current projects are hosted on GitHub Pages – at the moment. To find more about us, visit our team's homepage via this link.
TEAM PURPOSE:
Learn. Create. Collaborate. Share. Help.

If you're up for it and can either do research, create tickets, plan things out, create landing pages, center buttons and colour titles, create design materials, create databases and consume APIs or send quality memes – join in and let's start with simple things 💛